Club Mobay
Imagine escaping from the stress and chaos of security lines and crowded departure halls to a sanctuary where you can relax, unwind or catch up with the office, all while immersed in warm Jamaican hospitality and culture. Whether you're traveling for business or pleasure, Club Mobay's lounge experience enhanced with an unrivaled visual journey through Jamaica's history provides the perfect place to unwind before departure.
The 10,000 square foot lounge affords you the space to enjoy a premium bar featuring, of course, Red Stripe Beer, complimentary snack bar, high-speed Internet access, shower facilities, and culturally themed specialty rooms. World-renowned Jamaican third world hospitality and charm meet first world innovation at Club Montego Bay, entrance located beside Departure Gate 9.

State of the Art Lounge
Experience luxurious Jamaican décor in a spacious, air-conditioned lounge featuring a cutting-edge business center. Relax in practical and stylish furniture while reading from a wide selection of international magazines or newspapers. Enjoy the best of duty-free shopping from the comfort of your chair with complimentary concierge duty-free shopping. Let your kids loose in the soundproof " Kiddie Corner" where they will safely enjoy games and activities, all while visible, through its innovative design, from the main area, offering you peace of mind.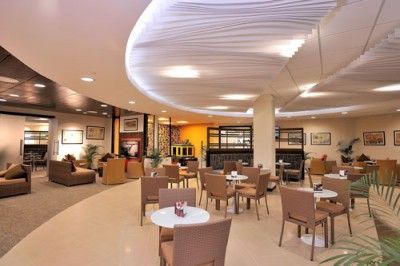 First Class Amenities
Enjoy high-speed wireless Internet access throughout the lounge via your own device or on one of our computers in the state of the art business center. Grab a bite to eat from our refreshing complimentary snack bar. Pamper yourself with one of the express treatments available from the spa.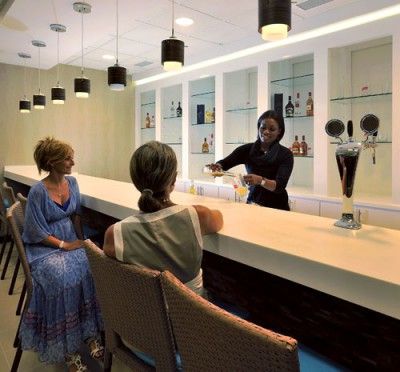 Uniquely Jamaican
In addition to offering amenities rivaling the finest airport lounges worldwide, Club Mobay provides a unique way for guests to immerse themselves in Jamaica's heritage and culture while enjoying its conveniences. Jamaica... a Journey takes visitors on a journey through Jamaica's heritage with the aid of cultural displays and artifacts. Through this exhibit, commissioned exclusively for Club Mobay, visitors will leave with an appreciation of cultural icons, historical events, musicians and politicians and the important role they played in shaping today's Jamaica.
The Mango Spa at Club Mobay
While relaxing in the lounge, why not enjoy a mini spa treatment by an experienced, certified massage therapist? Browse our list of services. Reservations are recommended! Please call 876-399-2460 or E-mail the Spa.
Club Mobay Hours
Open every day from 7 AM to 10 PM.
Location
Located between Gate 9 and Red Stripe Restaurant in the Departure Terminal at Sangster International Airport.